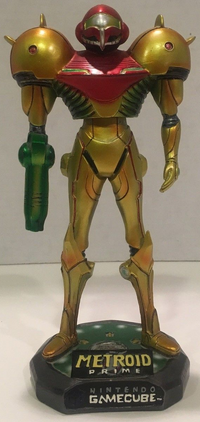 The Samus Aran Bobblehead is a promotional item released in 2002 ahead of Metroid Prime. The bobblehead was created by Toysite, which manufactured a number of Nintendo plush toys and bobbleheads in the early 2000's. It features Samus Aran wearing her Varia Suit as it appears in Prime, standing on a base with the logos of Prime and the Nintendo GameCube, the console Prime was released exclusively for. These logos appear to have been hand-painted. The bobblehead is made out of metal. The box includes a render of Samus charging on the front and top and her render on the game's cover on the left and right sides. On the back of the box is a scale photo of the bobblehead.
Proportionally speaking, Samus's Arm Cannon is much smaller than in-game, and it is her entire upper body, not just her head, that bobbles from side to side when touched. The model of Samus is approximately 7-8" tall. It is a collector's item today. A demonstration of the bobblehead can be viewed here: [1]
On the bottom of the base is a sticker saying:
"This item is a Display Collectible Not a Toy
Not recommended for children under 8 years"
Metroid Prime 3: Corruption would later feature an in-game Mii Bobblehead, which could be placed and played with in the Gunship.