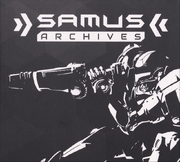 Samus Archives Sound Selection, alternatively known as the Samus Archives Music CD or simply Samus Archives, is a CD soundtrack that was released alongside the Special Edition of Metroid: Samus Returns.
It contains 25 music tracks including classic Metroid themes, and new tracks from Samus Returns. It is the first Metroid soundtrack to be released since the Game Sound Museum ~ Famicom Edition ~ 12 Metroid in 2004, and the first Metroid soundtrack to see an English release.
The North American, Japanese, and European versions of the Samus Archives Sound Selection feature different sets of cover and disk art.
Tracklist
[
]
The track listing was revealed in Japanese on August 8, 2017.[1][2] The English track listing is nearly the same between the North American and European versions, although the first track has a slightly different name ("Results" in NA, "Result" in EU). It features songs from most games in the series released to that point, except for Metroid: Zero Mission, Metroid Prime Hunters, Metroid Prime Pinball and Metroid Prime: Federation Force.
Gallery
[
]
References
[
]