Sanctorus is a room in Arcterra of the Alimbic Cluster. The area features a puzzle using the Imperialist sniper weapon. Samus must solve the puzzle to get a portal key and to open the door out. Upon entering the room there are three paths to take. The left path has a Universal Ammunition Expansion and a hole leading to the bottom of the room. The center path leads to the bottom of the room just like the hole in the previous path. The right path leads to two more paths, both that lead to the bottom of the room.
Connecting rooms
Edit
Inhabitants
Edit
Take a left from the entrance. It is at the end of the hall.
Scan the three switches to remove the force field blocking the Imperialist Lock. Shoot the red switch with the Imperialist to cause the Shield Key to appear. The Artifact will be able to be collected.
"SPECTRAL LOCK 1* DEACTIVATED."
Spectral Locks

"ADJUSTING THE OPTICAL SPECTRUM MAY REVEAL THE TRUTH."
Alimbic War 01

"THE WAR LASTED STANDARD GALACTIC MONTHS. EVEN WITH THE GALAXY'S MOST POWERFUL TECHNOLOGY AT OUR DISPOSAL, WE FELL LIKE DRY GRASS BENEATH THE BLADE."
Alimbic War 06

"GOREA IS A CANCEROUS BLOOM THAT WOULD WREAK HAVOC ACROSS THE UNIVERSE."
Alimbic War 12

"WE GAVE OUR LIVES TO CONFINE THE FOUL MONSTROSITY KNOWN AS GOREA. DO NOT SEEK THIS CREATURE UNLESS YOU HAVE THE MEANS TO DESTROY IT."
Gorea 03

"AT FIRST WE THOUGHT GOREA WAS A COMET. IT CRASHED UPON OUR PLANET AND EMERGED AS A VAPOR."
Gorea 04

"GOREA MIMICKED OUR CELLULAR STRUCTURE AND REPLICATED ITSELF IN SOLID FORM."
* any number 1-4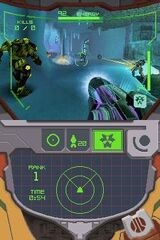 Sanctorus is also available as a multiplayer stage. Featuring two floors, the arena contains Energy Capsules, a Double Damage pickup, Affinity Weapons, Missile Ammo and the Volt Driver on the second floor. The surfaces are slippery and snow pillars can provide cover. Sanctorus is not available by default, and must be unlocked by playing 2 local games.
Tactics for Sylux on the Sanctorus stage, found in the strategies section of the Metroid Prime Hunters Official Nintendo Player's Guide, mistakenly places Samus's head next to his name.
Community content is available under
CC-BY-SA
unless otherwise noted.