"Multiple mutations will cause a Metroid to grow into an even larger and more powerful adversary."
---
Please help improve this article or section by expanding it.
Much more information can be added to this article.

The Sanctuary Temple is a room in the Sanctuary Fortress. It appears in Metroid Prime 2: Echoes.
Description
[
]
This temple was built by the Luminoth and it is located in the heart of the Fortress. It contains the temple itself, Temple Access, Sanctuary Energy Controller Access, and the Sanctuary Energy Controller. The temple itself is a huge pit, and, although primarily used for worship, later in the war, it was used as a construction site for two Quadraxis, only one of which was built.
The Dark Aetherian version of this room is the Hive Temple. Whereas large mechanical parts for a massive Quad are found in this room, inactive, a fully constructed version known as Quadraxis is fought in the Hive Temple.
Connecting rooms
[
]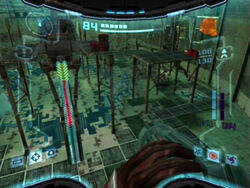 Inhabitants
[
]
First Visit
[
]
Future Visits
[
]
Scans
[
]
Tutorial
[
]
"The Boost ability can propel the Spider Ball away from magnetic rails."
Trivia
[
]
The inclusion of the half-constructed Quadraxis is the second time something in one of the four Aetherian regions foreshadows toward the nature of its Dark Temple guardian. The first was in the Agon Wastes, where the player can see a carved stone statue of Amorbis, which scans suggest was intended to be a "warning" to travelers.
The Head Module for Quadraxis is nowhere to be found in the temple.
Upon entering here the first time, should Samus shoot one of the two Quads before leaping down and activating the cutscene, it will go after her as soon as she lands. This can prevent it from being possessed while its partner is. This makes this one of the few, if only, rooms where both a dark and light counterpart of the same enemy can exist at the same time. Neither attack the other, either due to it not being programmed into the game or more likely due to the rogue machines are in league with the Ing. Interestingly, should Samus destroy the body of one and the head of the other, the remaining parts will still combine, forming a hybrid of sorts.
Of all the "Temples" in the game, this is the only one without a mandatory battle, as Samus can simply ignore the two Dark Quads and continue her path to the Energy Controller. Also, along with the Sanctum, this temple doesn't have any upgrades to collect.
Gallery
[
]

"Looks like a pile of rags..."
---
This article or section is in need of one or more images, or the image(s) used is/are not of a satisfactory quality.
You can help Wikitroid by adding a preexisting image or by uploading a new one.