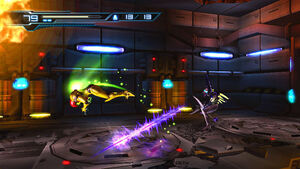 "
The suit is part of her. If she doesn't sense danger, it won't protect her.
"
The SenseMove[1][2][3] is an evasive maneuver[4] that utilizes the jets on the back of Samus' Power Suit. It allows her to immediately move out of the way of any oncoming attack, melee or projectile,[5] and immediately follow up with a charged shot.
The SenseMove is used during cutscenes to avoid a Ghalmanian in a chamber in the Biosphere, a Namihe in a tunnel in the Biosphere, a Kihunter in the Biological Experiment Floor in the Biosphere, a Vorash in a passageway in the Pyrosphere, a Rhedogian in the Pyrosphere and the Biosphere and the Queen Metroid in Room MW.
A SenseMove is performed by pressing any direction on the D-pad before an attack makes contact with Samus. It can also be performed while in Search View by aiming off-screen when the edges of her visor shine green.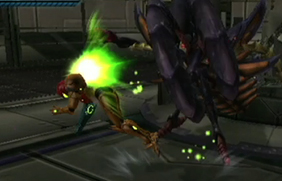 After performing a successful SenseMove while holding (1), Samus' Charge Meter will instantly max out. Because of this, the SenseMove becomes the most important ability of hers: Not only does it allow her to completely avoid taking any damage, giving her the potential to never get hit throughout the entire game, but it also allows for maximum damage on every single counter-attack. SenseMove also makes Samus intangible for the entire duration except for the last second of the dodge.
The SenseMove can be executed indefinitely, as well as the fully charged shot counter-attacks that come with it.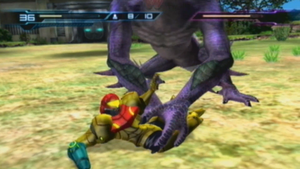 References
Edit