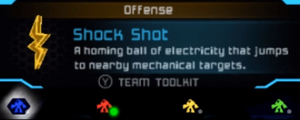 The Shock Shot is AUX ammo equippable from the Team Toolkit in Metroid Prime: Federation Force. This weapon fires a spherical projectile of electricity that homes in on targets in close proximity. It is particularly effective against mechanical enemies, including Security Bots and Grim-Class Turrets. The AUX Amplifier MOD will increase the damage output of this item by 50%. The Aftershock MOD causes enemies who have been electrocuted with the Shock Shot (or Shock Decoy) to take consistent damage from the hit periodically after being shot.
It shares electrical properties of the Wave Beam, Volt Driver and Grapple Voltage used by Samus Aran.
Descriptions
Edit

Shock Shot

"A homing ball of electricity that jumps to nearby mechanical targets."

Aftershock

"Shocked enemies take extra electric damage periodically after being hit."
Community content is available under
CC-BY-SA
unless otherwise noted.