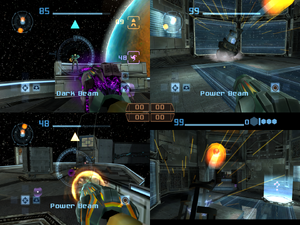 Sidehopper Station is a multiplayer stage in Metroid Prime 2: Echoes.
Description
[
]
Sidehopper Station is a Space Pirate station in orbit around Tallon IV. It is shaped very similarly to a large Sidehopper, as seen in the selection menu. In the "legs" of the Sidehopper are Kinetic Orb Cannons that launch Samus Aran from one side to another.
There is also a roof area accessible from the upper lever lever of two tunnels that connect the main room to two sub-rooms which in turn, connect to the two "legs" of the station. Able to be seen from the "legs" of the station, there is a Spider Ball Track above the gap between the "legs". In the main room, on the upper level, there are two exits that lead to the track. However very rarely upon loading the match, these Morph Ball tunnels will be blocked by gates and the tunnels themselves become unaccessable for the remainder of the match.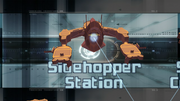 This stage has two Randomizers situated next to the Orb Cannons.
Trivia
[
]
Gallery
[
]
References
[
]