"Given your unofficial status..."
---
This article's title is conjectural.
Any name given in official media is eligible to become the title of the article.
The current title is not an official name.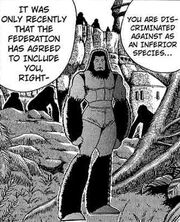 "Simians" are a race of large ape-like humanoid. They are apparently discriminated against by the rest of the Galactic Federation, which, according to a captured Space Pirate, dubbed P-1, is due to them being primitive compared to most other humanoids. P-1 states that the Chozo, particularly Platinum Chest, had recommended the species to the Federation.
Commander Mauk is a Simian.

Community content is available under
CC-BY-SA
unless otherwise noted.