Not to be confused with Pirate Data written by the Space Pirates on Tallon IV.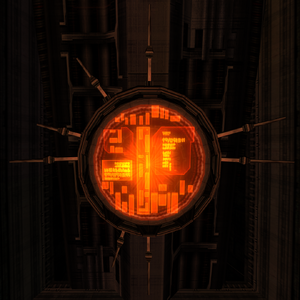 This page lists the Space Pirate data from Metroid Prime 3: Corruption.
Our Mission
Edit
Location: Lift Hub
Space Pirate Data
Our Mission
Logbook entry
Phazon was discovered two stellar years ago, and since that moment, Command has been driven to control it all. Two operations have been established, at tremendous cost. Both have failed, thanks to the accursed Hunter, Samus Aran. Her Federation allies now move to secure what little Phazon remains on the planet Aether. This we cannot allow. We, the crew of the battleship Colossus, swear to take that Phazon or die trying.
Location: Command Station
Space Pirate Data
Stowaway
Logbook entry
Our attempts to intercept the Federation ship departing Aether were unsuccessful. With them went a collection of Phazon, the first to fall into Federation hands. They foolishly left most of the Phazon behind, allowing us to quickly collect what we could. But in our haste we took more than mere Phazon. Our scanners have detected the remains of Dark Samus, who has revived herself within our Phazon storage.

Surely, we are cursed.

The fiendish shrew consumed all of the Phazon, then wiped out a third of the crew in a matter of minutes. Now she moves at will through the halls of Colossus, using her witchery to beguile the minds of the crew. We are unable to call for aid, and only a few of us remain to stand against her. All is lost.
First Disciples
Edit
Location: Processing Access
Space Pirate Data
First Disciples
Logbook entry
Our struggles have ended. She has shown us the error of our ways. The way is now clear. All previous vows of fealty have been forsworn: we now pledge sole allegiance to our liberator, the great one, Dark Samus. We bear a singular honor, we lucky few, for we are her first disciples. Our burden is a happy one, for we will pave the way to her glorious victory and cosmic rule. Let the light of Phazon lead us!
The Source Discovered
Edit
Location: Airshaft
Space Pirate Data
The Source Discovered
Logbook entry
After our liberation, she left us adrift. We thought this a test of our loyalty, and so we endured. Some said she abandoned us. They were promptly shot. Disciples do not doubt their leader.

When she returned, it was on the back of a titanic starborne beast! As we groveled in awe, she ordered us to follow the beast through a rift in space, a wormhole. Some refused to follow, afraid of the unknown. They too were shot. Disciples must be fearless.

Once through the rift, we saw a singular wonder...Phaaze, the source of all Phazon in the cosmos. Phaaze, the home of our glorious leader!
The Leviathan
Edit
Location: Transit Station 1-A
Space Pirate Data
The Leviathan
Logbook entry
Our leader provided us with great wisdom on many subjects, including the improvement of our mighty battleship, Colossus. We followed her teachings, and turned our vessel into a ship without peer. But more work remained!

Dark Samus required a mighty flagship, one to strike terror in the hearts of her enemies. The might of Colossus was not enough. She demanded more! Her solution was unique and most excellent.

We took her great star-beast and fitted it with cybernetic weapon systems. Crew quarters and command consoles were placed within the beast's skull. In time, we created a mighty dreadnaught, and called it Leviathan. The great leader was pleased.
Taking Valhalla
Edit
Location: Creche Transit
Space Pirate Data
Taking Valhalla
Logbook entry
The vision of our leader is vast indeed. As we prepared for war with the hated Galactic Federation, she decided she required one of their great machines to better control her living planet. We then set out to bring an Aurora Unit to Dark Samus.

Bribes led us to the location of our prize: the battleship Valhalla. Crewed with green recruits on a training mission, she was ours for the taking. One of the mightiest ships in the cosmos was no match for the Phazon-powered weapons of the Colossus. We rendered Valhalla helpless, then sent raiders to claim our prize. The Aurora was ours!

There was no mercy for the Federation dogs. At the command of Dark Samus, we jettisoned the crew into the frigid depths of space, leaving the wreck of Valhalla as a warning to the Federation. Let them tremble before our might!
Purification
Edit
Location: Skyway Access
Space Pirate Data
Purification
Logbook entry
Our great leader, with the aid of our captured Aurora Unit, has discovered many of Phaaze's secrets. Dark Samus can now command the living world to send forth Phazon Seeds! She was eager to test this new power. When we heard the first world to receive this blessing was our Homeworld, we rejoiced.

The Seed was sent into the void, and quickly made its way to our Homeworld. Our brethren foolishly tried to repel it, but their efforts were in vain. To think, once we were as pathetic as them!

Now the deed is done, and slowly, our Homeworld becomes like Phaaze. Soon, there will be two living planets, two Phazon sources for our great leader to use as she sees fit. Soon, there will be thousands of new disciples for her to command.
Location: Mine Lift
Space Pirate Data
Vanguard
Logbook entry
The time has come, our leader commands. We go to war at last!

Three worlds will be attacked, each important to the Federation. We shall destroy the spy base at Elysia, the fuel production of Bryyo, and the naval station at Norion. Each of those wretched worlds will become as Phaaze...each a foothold into the territory of the hated Federation. From those worlds, our vanguard will go forth. At long last, our enemies will be humbled, then enslaved.

Three Phazon Seeds will be sent, and an armada will accompany each of them. Dark Samus herself will lead the attack on Norion. Victory is ours for the taking!
Victory and Loss
Edit
Location: Drill Shaft 1
Space Pirate Data
Victory and Loss
Logbook entry
Today is a day of celebration and woe. Our forces have taken planet Bryyo, leaving the Federation outpost there in cinders. Though we missed their spy base at Elysia, the planet itself was struck with a Phazon Seed. But Norion...Norion was a failure...all thanks to the accursed Hunter, Samus Aran.

All is not lost, however. Our great leader defeated Aran and her mongrel allies in battle. If they aren't dead, they'll soon wish they were. Each of them bears her mark of corruption. Soon they, like we disciples, will bow to her will.
Bryyo Falls
Edit
Location: Phazon Mine Entry
Space Pirate Data
Bryyo Falls
Logbook entry
Command has received disturbing reports from Bryyo. Contact with our outpost there has been terminated. A coded bliptrans showing Commander Rundas falling in battle to Samus has arrived. Worst of all, the Bryyonian Seed has been demolished. The Hunter's might is great, and she is as efficient as ever when it comes to disrupting our operations.

Our spies within the Federation tell us she travels to Elysia soon. We plan on having an appropriate welcoming party in place for her when she arrives. Commander Ghor is a very...accommodating host.
Disaster at Elysia
Edit
Location: Command Courtyard
Space Pirate Data
Disaster at Elysia
Logbook entry
The march of the Hunter continues, much to our dismay. She has smashed our line at Elysia, taking down Commander Ghor in the process. The accursed Elysian machines were no match for Aran's guns, and now the Federation has control of their spy station once again.

It is only a matter of time before they find the location of the Phazon source and send their fleets to lay siege. Our great leader does not seem to mind these setbacks. If Samus comes to our Homeworld, she will find us ready.
Mistress Gandrayda
Edit
Location: Transit Tunnel P70
Space Pirate Data
Mistress Gandrayda
Logbook entry
Mistress Gandrayda is the last of our leader's field commanders. We hope that she will succeed where the others have not. We hope that she will slay the wretched Hunter!

Gandrayda tests our mettle often. She moves among us in our form, watching us, looking for signs of weakness. Several unfaithful disciples have been ended...violently. Those who survive will be stronger, ready for the Hunter that comes for them from the void. Gandrayda has vowed to present Aran's bloody helmet to Dark Samus as tribute. We hope she fulfills that vow!
Unused entries
Edit

"What's the matter? All I said was that Komaytos look like little Metr—"

---
Non-canon warning
:
This article or section contains information that may not be considered an official part of the
Metroid series
in the overall storyline by
Nintendo
.
These entries are translated from German; they can be read in their original form on the list of unused Logbook entries in Metroid Prime 3: Corruption.
The Raid
Temporary scan
Space Pirate data decoded.
Entry: (The Raid)
Data moved to Logbook for review.
Logbook entry
Entry 03.242.3
The arrogance of the Federation has done us a great service. They sent a single patrol ship to Aether! Surely they consider us weaklings, but they will soon regret this error. Quite by chance we stumbled across this measly Federation ship; in no time we smashed them, and they whimpered for mercy. Then we discovered that they had already collected the rest of the Phazon. How very prudent to save us this toil! And so we returned victorious to Urtraghus. This time the Hunter will come too late!
Temporary scan
Space Pirate data decoded.
Entry: (Citadel)
Data moved to Logbook for review.
Logbook entry
Our great leader has prepared her new home for our arrival. We learned that Phaaze is alive, and that, like us, it is subject to her will. So we are spared from the malicious beasts and Metroids, who wander the surface of Phaaze. Oh yes, for that we are truly grateful!

There was much work to do. At her behest, we began to build a proper citadel on Phaaze. Thanks to our newfound strength, we could do in weeks what would have otherwise required years. If our enemies should find us, they will find us ready within our citadel.
The Harvest
Temporary scan
Space Pirate data decoded.
Entry: (The Harvest)
Data moved to Logbook for review.
Logbook entry
Entry 05.221.6
The wisdom of Aurora is profound. It cleverly devised machines and processes with which we can extract the Phazon produced from the seed of Urtraghus. While our home world becomes more and more like a new Phaaze, we have put the broad masses to work in order to reap the spoils of Phazon.

Soon we will also send Phazon Seeds to other planets. The blessed Seeds are protected by impenetrable barriers of Phazon energy until the time is ripe for harvest. We, the loyal legions of Dark Samus, along with the Seeds, will know how to defend against all enemies. With the power of Phazon at our disposal, we are unstoppable... and the Galactic Federation will certainly fall.
Warband
Temporary scan
Space Pirate data decoded.
Entry: (Warband)
Data moved to Logbook for review.
Logbook entry
Entry 05.566.1
The inhabitants of Urtraghus, once a minor, quarrelsome band, are now a united force in service of our great leader. The legions of Dark Samus arm for war in the beneficent splendor of Phazon. Each day, hundreds of new disciples are added for the fight.

Our fleets are to be retrofitted with the new Phazon weapons and drive technology, which have been designed by our leader and the Aurora Unit. The pitiful weapons and armor once used by our troops are now being replaced, and all of them benefit from the blessed ore.

Soon, all who were once called "Space Pirates" will have the strength of Phazon. And then they shall call us masters.
Return of the Hunter
Temporary scan
Space Pirate data decoded.
Entry: (Return of the Hunter)
Data moved to Logbook for review.
Logbook entry
Entry 06.003.8
The news of our spies confirmed our worst suspicions - Samus lives. Though she is drawn by Dark Samus, she resists her call, where her allies bent. Somehow, she remains the master of her will! Like always, she stands up to affront us, to challenge us and to try our power.

This time, Samus will not see us fail. Her former brethren lie in wait for her. The spirit of the great Dark Samus has captured these great hunters, wiped out the lies of the Federation, and shown them the glory of her reign. Blessed Phazon flows through their veins, and increases their strength many times. Now, certainly, this is the end of Samus Aran!
Urtraghus Lost
Temporary scan
Space Pirate data decoded.
Entry: (Urtraghus Lost)
Data moved to Logbook for review.
Logbook entry
Entry 07.004.8
The situation seems dire. The Federation and its rabid beast Aran have turned Urtraghus into a flaming field of debris. Our troops were driven out, and there is no message from Mistress Gandrayda. We fear she shares the fate of her comrades... struck down by the hands of the hunter.

However, secure bliptrans transmissions reveal worse. The Federation has taken possession of the flagship of our leader. They have the Leviathan. With its power, they can open a wormhole at any point in space... even the origin of all Phazon. Our spies tell us that they are preparing for the invasion. And yet we will not fear, for the great leader is with us!
Onslaught
Temporary scan
Space Pirate data decoded.
Entry: (Onslaught)
Data moved to Logbook for review.
Logbook entry
Entry 07.289.5
The fury of our leader is great. Many disciples have experienced her wrath since Urtraghus fell. However, despite our defeat, her confidence is unbroken. Soon the next phase of her campaign shall take effect against the Federation.

The Aurora has performed the last calculations. Our leader is ready to strike. Soon, Phaaze will sow a large number of Phazon Seeds. They will feel hundreds of Federation worlds. This blow may be the end of Phaaze, but our leader is without worry. For hundreds of live Phazon worlds will replace it.
The Siege
Temporary scan
Space Pirate data decoded.
Entry: (The Siege)
Data moved to Logbook for review.
Logbook entry
Entry 07.357.7
The Federation fleet has arrived. Like a swarm of puny insects they throw themselves desperately against our mighty armada. Fear drives them, because the Seed will meet many of their beloved home planets. Soon they will all be worlds of Phazon, and their peoples faithful servants of Dark Samus.

While the Armada eliminates the laughable Federation fleet, we look ahead to the arrival of our great leader's hated adversary. Only she seems to be able to stop the Hunter. We disciples remain full of expectation, until the final victory.
Community content is available under
CC-BY-SA
unless otherwise noted.