"No matches found in flora and fauna databank"
---
The subject of this article is not named in-game.
The current title is from a guide or other published source.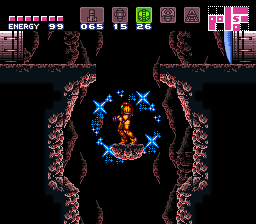 The Special Charge Beam Attacks[1] in Super Metroid are secret Charge Combos. The game has four beams other than the Power Beam and Charge Beam, and each has its own Charge Combo. They are not separate items and can be used provided that Samus has acquired the Charge Beam, the beam in question, and the Power Bombs. To use a Charge Combo, only the Charge Beam and one other beam must be active in the Samus Screen. Samus must select Power Bombs as the secondary weapon and then charge up the beam; the Charge Combo will fire 120 frames later (2 seconds on NTSC / 2.4 seconds on PAL). It costs one Power Bomb per shot. These combos are not necessary to solve any gameplay elements and are included only to provide more frequent use of the underused Power Bombs.
The following effects are created from using a Special Charge Beam Attack:
Gallery
[
]
References
[
]