Super Smash Bros. Ultimate (大乱闘スマッシュブラザーズ SPECIAL, Dai rantō Sumasshu Burazāzu Supesharu?, Great Fray Smash Brothers Special), tentatively titled Super Smash Bros. is a fighting game for the Nintendo Switch, released worldwide on December 7, 2018.
A surprise announcement at the end of the March 8th, 2018 Nintendo Direct, it is the fifth installment in the Super Smash Bros. series. The game was released in December 2018, a little more than four years after its predecessors, Super Smash Bros. for Nintendo 3DS and Wii U. It features the return of every character that has ever been playable in the series, including Samus and Zero Suit Samus, as well as fighters cut in subsequent installments such as Pichu, Young Link, the Ice Climbers, and Snake.
It also features Ridley and Dark Samus as playable characters for the first time in the series' history, following years of fan requests dating back to Super Smash Bros. Melee and Brawl.
Metroid content

[

]
Samus and Zero Suit Samus both still resemble their appearances in Metroid: Other M, albeit with modifications. Samus's Charge Shot can now be charged and cancelled in midair, while Zero Suit Samus's Final Smash still involves the Gunship, but she now stands atop it in her Power Suit and fires the Zero Laser.
The Metroid and Mother Brain Assist Trophies return, as do the Brinstar, Brinstar Depths, Norfair and Frigate Orpheon stages. This marks the return of Brinstar Depths after a seventeen year absence. Given Ridley's playability, the Pyrosphere stage does not return.
A brand new metal remix of Brinstar Depths, arranged by Yasushi Asada, was one of three tracks revealed on the game's website on June 12, 2018. The previous Melee version is still present, but a new remix of Vs. Parasite Queen has replaced the original version from Metroid Prime. Newly introduced songs include Main Theme (from Metroid Prime: Federation Force) and Magmoor Caverns (from Metroid: Samus Returns), both confirmed in the August 8, 2018 Direct, as well as Boss Battle 4 and End Results from Samus Returns. This brings the total number of Metroid series music tracks to 25. With the exception of the original Vs. Parasite Queen, all Metroid songs featured in previous Super Smash Bros. games return in Ultimate, marking the first time Planet Zebes Stage has been featured since the first game.
All amiibo released for the fighters with the previous game will be compatible with Ultimate as well. Additionally, new fighters (including Ridley and Dark Samus) will receive amiibo, with Ridley's coming on the same day as the game's release.
Characters
[
]

Bolded characters are newcomers. The game will feature fewer newcomers than its predecessors, due to the inclusion of all 65 veteran fighters in the history of the series. The game also introduces the term "Echo Fighters", previously fan-dubbed "clones", which refers to fighters whose movesets have been copied from another fighter. These fighters are marked with an epsilon (ε) symbol. With the introduction of Ridley and Dark Samus, Ultimate has the most Metroid characters out of any game in the Super Smash Bros. series.
Five DLC packs, each coming with a new character, were announced as going into development between the game's release date and February 2020. The first five confirmed characters were Joker from Persona 5, the Hero from Dragon Quest, Banjo and Kazooie from the series of the same name, Terry Bogard from Fatal Fury and Byleth from Fire Emblem: Three Houses. None of these would be Echo Fighters, and Piranha Plant is a sixth downloadable character who was released before the Fighter Pass characters.
It was announced during the Nintendo Direct on September 4, 2019 that more fighters are in development. On January 16, 2020, it was confirmed that six more fighters would be released as part of a second Fighter Pass by January 31, 2021. On March 26, 2020, the first fighter in the second Pass was revealed to be an unspecified character from ARMS, who was revealed on June 22 as Min Min. She was released on June 29. On October 1, 2020, the second fighter was revealed as Steve, Alex, Zombie, and Enderman from Minecraft, who was released on October 13.
The ending of the original trailer depicted the Smash Bros. symbol formed out of fire in midair, with a number of silhouetted characters at its base. The Inkling was seen gazing at these characters. Mario and Link, using his appearance from The Legend of Zelda: Breath of the Wild, were prominently displayed. Samus's shoulders, Bowser's horns and hair, and Donkey Kong's hair were clearly visible, but the other characters were less clear.
Spirits
[
]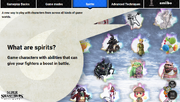 The new Spirits mode enables "Spirit" assist characters to be assigned to a specific character. They tie into a new adventure mode titled World of Light, in which every fighter except Kirby has been turned into a Puppet Fighter, possessed by the Spirit of a non-playable character. Spirits can be earned by defeating Puppet Fighters who are relevant to a specific Spirit in some way; for example, Shantae (a female ponytailed character in a racy outfit, from a series in the Metroidvania genre) is unlocked by fighting Zero Suit Samus in her orange Casual Outfit alternate costume.
The following Metroid Spirits are included in Ultimate, with artwork taken from their respective games. Note that the Metroid Dread spirits are not included in the base game and were later added in a Spirit Board Event.
Allusions to the Metroid series

[

]
Trivia
[
]
Gallery
[
]
For artwork, see Super Smash Bros. Ultimate/Gallery.
Screenshots
[
]
Other
[
]
References
[
]