"
My past is not a memory. It's a force at my back. It pushes and steers. I may not always like where it leads me, but like any story, the past means resolution. What's past is prologue.
"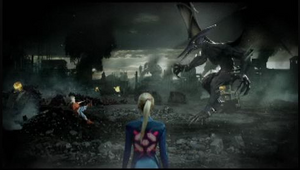 TV Commercial :60 Spot (TV Spot on the Nintendo Channel) is the live-action/CGI North American commercial for Metroid: Other M. The commercial shows Samus Aran in her Zero Suit speaking and walking through her life events. These include the attack on K-2L, working under Adam, fighting Space Pirates in the 03 Bay, witnessing the hatching of the baby in Metroid II: Return of Samus and its remake, and its death in Super Metroid, before she activates her Power Suit. Gameplay footage then follows. It was named on Metroid.com. Samus's narration is provided by Jessica Martin, her voice actress in the game, and she is portrayed by an unknown actress.
The 62 second version can be found here: [2] and a 31 second version here: [3]
The final line delivered by Samus, "What's past is prologue," is from William Shakespeare's The Tempest. Here, Samus is comparing herself to Antonio and Sebastian, stating that her past could not have produced any result other than combat with her enemies.
Community content is available under
CC-BY-SA
unless otherwise noted.