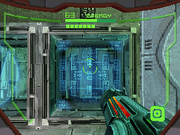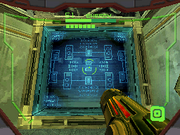 The Tetra Trade Map and the Navigational Chart are identical objects in Metroid Prime Hunters. They are both located in the Meditation Room in the Celestial Archives. The Trade Map shows the old shipping routes of Alimbic exports, while the Chart displays the Tetra Galaxy. Both of these modules are identical, however. The Navigational Chart is found against a wall in the first corridor of the Meditation Room, which Samus passes through as she enters it. The Tetra Trade Map is found inside the main part of the room, against another wall at the base of the platform Samus jumps off of.
Logbook entry
Edit
Tetra Trade Map
Logbook entry
Schematic of Alimbic interstellar shipping routes.
Navigational Chart
Logbook entry
Holographic directory of the TETRA GALAXY.
Community content is available under
CC-BY-SA
unless otherwise noted.