The Threat Assessment is a gauge that indicates environmental hazards (such as Phazon or lava) in Metroid Prime and Metroid Prime 2: Echoes. The Threat Assessment will grow as Samus Aran draws closer to the danger, when the hazard may harm Samus, the bar will beep and sign with the word "Warning". If Samus comes into contact with the hazard, she will receive damage and the bar will sign "Damage".
If Samus uses the Thermal Visor or the X-Ray Visor, numbers will appear beside the bar to inform of the distance from Samus and the harmful substance, with 9.9 being the farthest and 0.0 being the closest (measurement unit is unknown).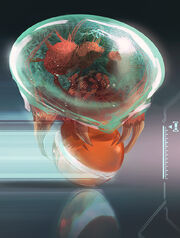 THREAT ASSESSMENT

"This gauge warns Samus of nearby environmental dangers. It rises in accordance with the proximity of the threat-when the threat is extremely near, the word "Warning" will appear. If Samus is actually being injured by the hazard, the word "Damage" will appear."
Community content is available under
CC-BY-SA
unless otherwise noted.