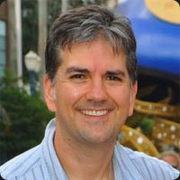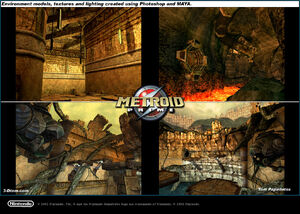 Tom Papadatos is an environment artist who worked with Retro Studios as a senior artist for Metroid Prime. He is credited under additional contributors in the game. Papadatos created character and environment models, textures, animation and front-end graphics for the game, while also developing lighting and in-game broadcast presentation, and assisting the director during motion capture sessions. The three Prime rooms in a render on his website appear to be the Tower of Light, what may be the Fiery Shores and an unidentifiable Chozo Ruins corridor, possibly after the Furnace. While at Retro, Papadatos also developed NFL Retro Football, their Nintendo GameCube football game that was cancelled to free up resources for Prime.
He left Retro in February 2002 and has since worked at Acclaim Studios and Edge of Reality. He was the lead character artist for Epic Mickey and its sequel at The Walt Disney Company. Papadatos joined Electronic Arts in 2014, and as of 2017 is the development director of artwork.
External links
Edit
Community content is available under
CC-BY-SA
unless otherwise noted.