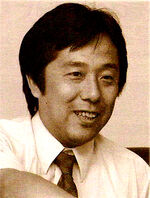 Toru Osawa (born December 27, 1962 in Kyoto, Yamashina) is a producer and former graphics artist at Nintendo since 1985. He is a graduate of Kyoto Seika University.
Osawa was a graphics artist for Super Metroid. He was also credited as Inusawa under special thanks in Metroid; this was a nickname given to him by the development team. For Super, Osawa designed the game's smaller enemies, Kraid, Mother Brain and the Map and Samus Screen.
In the Japanese strategy guide interview, Osawa recalled that their office reeked toward the end of Super Metroid's development, because the staff were crunching to finish the game without sleeping or going home. He also said that it took a year and a half to finish the final version of the game, although development began around the Autumn of 1991. Osawa originally drew Mother Brain to resemble an "old lady" who lived in his apartment complex, before Yamane stepped in and introduced the harsher design that she has in the final game.
Other secrets revealed by Osawa included that Samus Aran was originally naked for a single frame in the Game Over sequence, and that Ridley can be defeated in the opening sequence on Ceres Space Colony (this only results in him dropping the baby's capsule, but he quickly picks it back up and escapes). The latter was something he liked to do.
Osawa did not provide a secret of Samus that only he knew, and his clear time for Super Metroid was 2:46. In the same interview, he said he enjoyed the Indiana Jones films, and his favorite musicians were Hall & Oates, Prince and Motoharu Sano.
Osawa created the Kid Icarus series, which is sometimes considered a sister franchise to Metroid, and he was the general director and script writer of The Legend of Zelda: Ocarina of Time.[1][2]
Osawa also designed the character art of Fire Emblem: Shadow Dragon and the Blade of Light and the game itself, and created the artwork for Fire Emblem: Battle of Revolution, a 2017 April Fool's Day prank, at the request of Hitoshi Yamagami.
These days, Osawa is a producer of titles at Nintendo, most notably the newer entries in the Fatal Frame series. He was an original game supervisor for Super Smash Bros. Brawl and Ultimate as well. In some games, Osawa has been credited as T. Ohsawa, Tohru Ohsawa or Tohru Osawa.
Community content is available under
CC-BY-SA
unless otherwise noted.