Transport to Agon Wastes, also known as Sand Elevator[1], is a room in Metroid Prime 2: Echoes. There is an elevator near the edge of a cliff with some webbing to the left side, which hides a Missile Expansion. Using the Scan Visor on a console close to the elevator will activate it.
Connecting rooms
Edit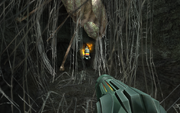 This is the only room with an Elevator and a powerup together.
In the Metroid Prime 2: Echoes Bonus Disc, the webbing blocking the expansion is missing, as is the expansion itself. When approaching the ledge, a message, "Warning: Terminal Fall Ahead!" appears.
References
Edit
Community content is available under
CC-BY-SA
unless otherwise noted.