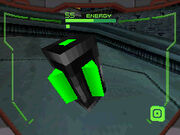 Universal Ammunition Expansions, also known simply as UA Expansions, are found throughout Metroid Prime Hunters. When collected, they increase Samus Aran's Universal Ammunition capacity by 30 units and fully restore her current supply. There are 12 different expansions, granting a total of 400 units once all are acquired. They serve the same purpose as the Beam Ammo Expansions in Metroid Prime 2: Echoes.
Official Data
[
]
Logbook Entry
[
]
Universal Ammunition Expansion
Logbook entry
Increases the UNIVERSAL AMMO capacity by 30 UNITS.[1]
Notification
[
]
"UA Expansion Found
Your UNIVERSAL AMMO capacity is increased by 30 UNITS."
References
[
]
^ Metroid Prime Hunters logbook