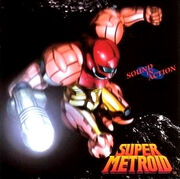 Upper Brinstar[1], originally known as Brinstar Overgrown With Vegetation Area (ブリンスタ 植物密生エリア?)[2], is the theme that plays in the green, plant-filled area of Brinstar in Super Metroid.
It contains rhythmic drum beats as well as a synthesized vocalization, as well as some elements of mechanical beats. Upper Brinstar is included on the Samus Archives Sound Selection CD that comes with the Special Edition of Metroid: Samus Returns. It was also included on Play it Loud! Original Soundtrack Volume 1, a 1996 SNES compilation album offered by Nintendo Power. [1]
It was remixed into the Hunters theme in Metroid Prime 2: Echoes; this was later remixed in Metroid Prime Pinball, and the original was featured in Super Smash Bros. Brawl and Super Smash Bros. for Wii U.
This theme has been performed in orchestra twice. In 1994, it was one of the themes arranged as part of a medley by the Tokyo Symphony Orchestra, and is arranged to sound darker. In 2012, it was performed again by the London Philharmonic Orchestra and Crouch End Festival Chorus as part of Super Metroid: A Symphonic Poem, a medley of Super Metroid themes released on the compilation album The Greatest Video Game Music 2. The medley emphasizes a more lighthearted approach to most of the tracks, in contrast with their eerie portrayals in Super Metroid.
The original theme can be heard here: [2], the theme from Echoes and Brawl here: [3] and the theme from Pinball here: [4].
Community content is available under
CC-BY-SA
unless otherwise noted.