"Chozo script translated."
---
This article's name is an unofficial translation from official Japanese media and may not represent the canonical English name, if one exists.
An alternate name from an official source may be required.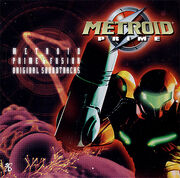 VS. Metroid Prime (Spider) (VS.メトロイドプライム(スパイダー)?)[1] is a theme that is heard in Metroid Prime, during the final battle against Metroid Prime in its exoskeleton form. The theme plays a few seconds after Samus enters the Phazon Infusion Chamber, and continues to do throughout the battle until she is about to drop through Subchamber 5. During the subsequent battle against Metroid Prime in its core essence form, the theme changes to Metroid Prime Battle. VS. Metroid Prime (Spider) was remixed for the battle with the same boss in Metroid Prime Pinball.
The theme from Prime can be heard here: [1] and the theme from Pinball here: [2].
Community content is available under
CC-BY-SA
unless otherwise noted.