"Given your unofficial status..."
---
This article's title is conjectural.
Any name given in official media is eligible to become the title of the article.
The current title is not an official name.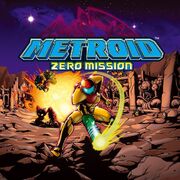 "Vs. Kiru Giru" is a recurring theme from Metroid: Zero Mission.
Description
Edit
This song is the battle theme of Imago and its Kiru Giru larvae, heard in all three encounters with the species. Each battle uses a different variation of the theme. The first version is heard during the battle against two Kiru Giru larvae in Norfair. The second version is heard during the battle against the Kiru Giru larva ensnared in Tangle Vines. The third version is heard during the battle against the mature Imago in Ridley's Hideout.
All three variations of the theme are based on a repeating phrase of ten notes, with the tempo and instrumentation varying. Stylistically, it is very similar to Mini Boss Confrontation (Spore Spawn, Botwoon) from Super Metroid, especially the second variation (with the ensnared Kiru Giru battle playing out very much like the Spore Spawn); however, the more complex composition (a ten note pattern compared to the original's simple six note pattern) casts doubt onto whether it's a direct remix or merely a nod to the older theme.
The first variation (designated as 11 in the Sound Test) of the theme is slow in tempo and low in pitch, fitting the large and lethargic larvae. The second variation (12 in the Sound Test) is slightly faster and high-pitched, with ambient sounds that resemble bird chirping. The third variation (14 in the Sound Test) is much faster and more frantic in tone, with a pounding beat accenting the song.
The Kiru Giru larvae version can be heard here: [1] The ensnared Kiru Giru version can be heard here: [2] The Imago version can be heard here: [3]