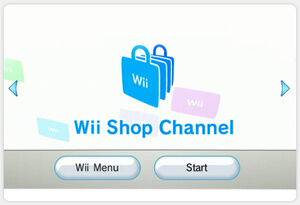 The Wii Shop Channel is a Wii channel that allows users to download games and other software by redeeming Wii Points, which can be obtained by purchasing Wii Points Cards from retail outlets or directly through the Shop Channel using MasterCard or Visa credit cards online.
This section of the channel allows one to purchase and download games from past consoles, such as Metroid and Super Metroid.
On August 10, 2007, Nintendo released the Metroid Prime 3 Preview Channel, a special promotional channel for Metroid Prime 3: Corruption, available for download from the WiiWare section of the Wii Shop Channel for free. The channel featured videos showing Corruption's gameplay and story line. More videos were to be added periodically before the release of the game that introduced new gameplay elements, showing how the controls work, and revealing more of the plot. A special puzzle was also included that allowed players to move the Wii Remote around to reveal two hidden images.
Connection Ambassador Program
[
edit
|
edit source
]
In 2009 NoE announced the "Wii Connection Ambassador" , (NoE Connection Ambassador Announcement.) program, a scheme designed to reward users for helping other new users get connected online and to the Wii Shop Channel. The service has since been launched in New Zealand and Australia. Since the service launched in 2009 the scheme has proved hugely popular, with many sites appearing online dedicated to helping users with connecting and sharing their system code. [1].
On September 29, 2017 it was confirmed that Wii Shop Channel will be discontinued on January 31, 2019. Additionally the purchase of Wii Points was discontinued on March 26, 2018.(Nintendo UK Announcement.) The date for the removal of the ability to re-download purchased titles has not yet been announced.
Community content is available under
CC-BY-SA
unless otherwise noted.