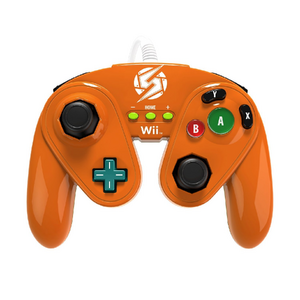 A Wired Fight Pad is a special Classic Controller designed by Performance Designed Products (PDP) and officially licensed by Nintendo. Created for use with Super Smash Bros. for Wii U, the controller, as with a normal Classic Controller plugs into a Wii Remote to simulate usage of a Nintendo GameCube controller. Of the seven announced thus far for release on May 1, 2015, there is a Wired Fight Pad based on Samus Aran's colors. The controller is orange and yellow and has buttons in red, green and black, which are the color scheme of her iconic Varia Suit. Above the home buttons is the Screw Attack symbol.
A light and dark blue controller based on Zero Suit Samus will be released on September 15, 2015.
Store description
Edit
"This version is based around the intergalactic bounty hunter with a suit of armor, Samus. A bright orange faceplate, green d-pad, as well as black thumbsticks and triggers all draw upon the classic look of Samus' power suit."
External links
Edit
Community content is available under
CC-BY-SA
unless otherwise noted.