Xenotech is a form of technology of alien origin as defined by Samus's Scan Visor during Metroid Prime 2: Echoes. This excludes Human or Chozo technology because Samus's Power Suit is Chozo in origin, and Samus is herself human. The Scan Visor describes machinery of Luminoth origin as Xenotech, although many other examples of alien technology could be deemed Xenotechnology.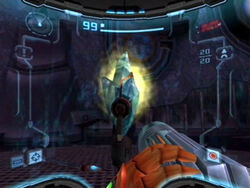 The word Xenotech is an amalgamation of the two Greek words, ξενος and τεχνη, meaning "strange handiwork", or simply alien technology.
Community content is available under
CC-BY-SA
unless otherwise noted.