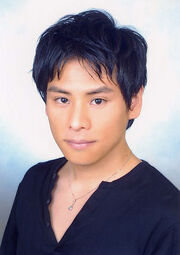 Yoshimasa Kawata (河田吉正?) (born May 23, 1980 in Okayama Prefecture, Japan) is a Japanese voice actor. He provided the Japanese voice of the Head Quarantine Officer in Metroid: Other M (Nate Bihldorf is his English counterpart). He also provided the Japanese dub of Slayde in Fire Emblem Echoes: Shadows of Valentia, and Lil Gideon in Gravity Falls. Kawata works more extensively in anime, with voice roles in Mysterious Girlfriend X, Shugo Chara! and Haganai, among others..
Community content is available under
CC-BY-SA
unless otherwise noted.