Yoshio Sakamoto (坂本 賀勇 Sakamoto Yoshio, born July 23, 1959) is a Japanese game designer who works for Nintendo. He is the co-creator of the Metroid series having worked as director, scenario designer, or script writer for many of the titles.[1]
Sakamoto grew up with Nintendo toys, which he noted to be inventive and occasionally "strange". The company hired him in 1982 when he came out of art college. Recruited by Shigeru Miyamoto, his first position was as designer on the team behind Donkey Kong Jr. He turned to the Nintendo Entertainment System afterward, helping design Kid Icarus and directing Metroid, both 1986. In the English version of Metroid, he is credited as Shikamoto.[2] "Shikamoto" is not a mistranslation, but a nickname given to him by R&D1 staff. At the time, he had been living in Nara, Nara Prefecture, which has a significant population of "shika", or deer.[3]
Following the original Metroid, Sakamoto has directed all Metroid games produced internally by Nintendo except Metroid II: Return of Samus. These are Super Metroid (1994), Metroid Fusion (2002), and Metroid: Zero Mission (2004). Sakamoto's role on Fusion was more removed compared to Super Metroid. He also supervised the production of Retro Studios's Metroid Prime (2002) and Metroid Prime 2: Echoes (2004), although he did not seem to have an in-depth role in the production of these games. He was also editorial supervisor/general editor for the Magazine Z manga.[4][5]
Sakamoto claimed in a Super Metroid interview that he was the only one to know where Samus Aran's beauty mark was,[6] which later turned up in Metroid: Other M under the left side of her lip.
In 2014, Sakamoto stated that he does not wish to return to traditional game series anytime soon as he wishes to "challenge himself" to create new experiences and draw new players.[7] Despite this, he was involved as producer in the development of Metroid: Samus Returns. He appears in the Developer Diary trailer to outline the game.
Known Credits
Edit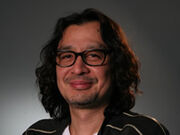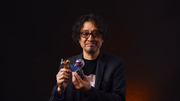 Game & Watch Donkey Kong (1982) - Barrel/Crane Artist
Donkey Kong Jr. (1982) - Artist
Wrecking Crew (1985) - Designer
Balloon Fight (1985) - Director
Gumshoe (1986)- Designer
Metroid (1986) - Director
Kid Icarus (1986) - Game Design
Ginga no Sannin (1986) - Director?; port of The Earth Fighter Rayieza (Enix, MSX)
Famicom Tantei Club (1988) - Director, Writer
Balloon Kid (1990) - Director
X (1992) - Director
Kaeru no tame ni Kane wa Naru (1992) - Scenario
Hello Kitty World (1992) - Special Thanks
Super Metroid (1994) - Director
Teleroboxer (1995) - Director
Galactic Pinball (1995) - Special Thanks
Game & Watch Gallery (1997) - Adviser
Famicom Tantei Club Part II: Ushiro ni Tatsu Shoujo (1998) - Director, Writer
Trade & Battle: Card Hero (2000) - Director
Wario Land 4 (2001) - Supervisor
Metroid Fusion (2002) - Chief Director
Metroid Prime (2002)- Special Thanks (Content Advisor)
Wario World (2003) - Advisor
WarioWare, Inc.: Mega Party Game$! (2003) - Supervisor
WarioWare: Touched! (2004) - Producer
References
Edit